Podcast: Download (Duration: 30:45 — 24.8MB)
Subscribe: Google Podcasts | Spotify | Stitcher | TuneIn | RSS | More
Another year ends, and once more, it's time to reflect on our creative goals. I hope you will take the time to review your goals, and leave a comment below about how the year went. Did you achieve everything you wanted to?
You can read my 2022 goals here and I reflect on what I achieved below.
Books for authors — Joanna Penn
Fiction as J.F. Penn — thrillers, dark fantasy, crime, horror, short stories
Shift to the Creator Economy and focus on selling direct
Embrace multi-passionate creativity — and optimize for curiosity — as we move into The Creative Future.
Generative AI, NFTs, and more
The Creative Penn website and podcast
Book-binding: Limited hand-bound edition of A Thousand Fiendish Angels
I achieved a lifetime goal of walking the Camino de Santiago — and finished my Pilgrimage book
The end of my Books and Travel Podcast
Travel and speaking, health and personal things
Header image generated by Joanna Penn on Midjourney.
---
Books for authors — Joanna Penn
I've had a draft of How to Write a Novel in my Work In Progress drive for over five years, but this year, I overcame resistance and finally finished it.
I was worried that I didn't have anything to add to the millions of other books on writing craft, but it turned out to be useful for some people, especially those who write out of order and are discovery writers.
I launched the book direct on my Shopify store, CreativePennBooks.com and sold it exclusively direct for a month before publishing it wide. It's now available on all platforms, in all formats, including the audiobook narrated by me.
Click here to buy it direct from me.
Click here to buy it from other stores.
Fiction as J.F. Penn — thrillers, dark fantasy, crime, horror, short stories
In the first quarter of 2022, I re-edited my first novel, Stone of Fire, and the subsequent two novels, Crypt of Bone, and Ark of Blood.
Click here for my lessons learned from re-editing.
Was it worth it?
Yes, creatively, because I am much happier about advertising the early books in the series now. Financially, I can't see any impact, but it was still personally worth it, especially as it helped me see how far my writing has come since that first novel in 2009 and the lessons helped me to finish How to Write a Novel.
I also wrote and published two short stories.
Blood, Sweat, and Flame, a dark little story set in a glassblowing hot shop, inspired by the Netflix series, Blown Away.
Soldiers of God, an ARKANE short story, featuring a popular secondary character, Martin Klein, my AI geek/ 'Q' character in the ARKANE universe. It's based around a document found in the Vatican Secret Archives that leads to a crypt hidden under Paris which holds a dark secret.
I've also written another short story which is currently with my editor, working title, Demons in the Smoke, but even though the work was in 2022, I will include that in 2023.
A shift to the Creator Economy and a focus on selling direct
In 2022, I purposed shifted into the Creator Economy model. This is essentially a mindset shift, as well as a behavioral change.
Instead of chasing algorithms and focusing primarily on building business for the big tech companies, it's about nurturing a direct relationship with readers and selling direct as much as possible.
This means that the author takes a bigger slice of the revenue upfront, as well as controlling the customer data and the customer relationship, plus we get paid faster than going through other distribution platforms.
I've been selling direct since 2008 when I started online, but it's always been an afterthought for book sales. I offered it, but I didn't focus on it. I also only offered digital formats.
In 2022, I prioritized selling direct in print as well as ebook and audio, and made sure to release direct first and direct only for new books.
In July 2022, I launched www.CreativePennBooks.com, my Minimum Viable Shopify store and you can read all the details here, where I outline all the reasons it's a good idea for your income, your customer data, and your mental health!
I launched How to Write a Novel for a month direct only with all formats, before putting the book wide on all the stores in all formats. Plus, I have kept the How to Write a Novel Workbook as direct only exclusive to my store.
This will be my model going forward — release direct first for at least a month before putting the book/s wide and keep some products as direct only.
I spoke at London Book Fair and at SPS Live on the topic of the Creator Economy, and produced a course on this in mid-2022: The Creator Economy for Authors.
Embrace multi-passionate creativity — and optimize for curiosity — as we move into The Creative Future.
At the beginning of the year, I decided to optimize for curiosity, rather than trying to rein in my eclectic, multi-passionate interests.
This allowed me to play in the technological and futurist spaces that I find so invigorating, and I have shared much of this experimentation with you in the extra podcast episodes during 2022.
Generative AI
I've been talking about creative AI since 2016, and personally, I have been using GPT-3 through Sudowrite for at least 18 months, mainly as an expanded thesaurus for sensory description. [Sudowrite Tutorial here].
I've previously written a book on AI for authors and publishing, I've worked on submissions for the UK government and the WIPO on AI and copyright, and I've helped the Alliance of Independent Authors formulate their Ethical Guidelines for AI Usage.
So creative uses of AI are not a surprise to me.
But this year generative AI went mainstream with the release of Midjourney, DALL-E 2, and Stable Diffusion for image generation in the northern hemisphere summer, and the release of ChatGPT in early December 2022 for text generation.
I'm now using generative AI as part of my creative and book marketing process. I've written and rewritten book sales descriptions and ad copy with ChatGPT and started to play with it as an outlining and research tool; I've used Sudowrite to help with multi-sensory description (like a thesaurus on steroids); I've used Midjourney to create header images for this blog, to create a custom ornamental break for my next book, and to create social media images related to my stories.
I've done a number of interviews on AI including co-writing fiction; AI art for book covers and marketing, and collaborative writing with OpenAI's Andrew Mayne.
Blockchain / NFTs
I minted and sold my first NFT special editions on OpenSea using AI-generated art before it went mainstream.
I've also done a number of presentations and interviews on NFTs including an overview of how authors can use NFTs and blockchain; blockchain for copyright and intellectual property; financial and tax implications of NFTs; legal and contractual aspects of NFTs and DAOs;
Plus, a crossover with AI and NFTs in a discussion with J. Thorn about how he is using generative AI for his NFT music and books.
AI for voice
Google Play auto-narrated audiobooks have helped thousands of authors create AI-narrated audiobooks for free, and have now rolled out the program to more countries, and enabled multiple narrator voices.
I interviewed Ryan Dingler from Google Play Books about auto-narration, and produced an update about other aspects of AI for voice. Apple has just started with AI narration as well, so this trend will only continue in 2023.
I am an audiobook narrator so I narrate most of my own books these days, but I also have AI-narrated audiobooks distributed to almost every platform except Audible.
As ever, I remain a techno-optimist, and while there are always problems with technology, I believe on balance it's a force for good and I want to continue to be part of the positive side.
Much more on the creative future here.
The Creative Penn website and podcast
I published 67 episodes of The Creative Penn podcast in 2022, and I'm so pleased that the show still resonates after more than 13 years.
I did a survey in the autumn and asked why people keep listening. The main reasons were: my positive spin on the author life, my focus on the future for authors and publishing which no other show covers, and the fact I have been around so long, giving me a longer-term perspective. The survey results helped me re-commit to the show, and also to plan episodes that will help authors at different stages of the journey.
Thanks to corporate sponsors Kobo Writing Life, Ingram Spark, Draft2Digital, ProWritingAid, FindawayVoices, WrittenWordMedia, and Kindlepreneur.
Thanks also to my patrons, who specifically support the inbetweenisodes and help me keep going when I feel like giving up. You can support the show (and get my extra monthly Q&A episode) at www.Patreon.com/thecreativepenn or you can buy me a coffee (or 3) at BuyMeACoffee.com/thecreativepenn
In terms of stats, The Creative Penn Podcast is in the top 1% of podcasts with over 10,000 downloads in the first 7 days of publishing, and 15K-25K downloads per episode. [Comparisons at The Podcast Host]
Stats from 17 Dec 2022 [Blubrry] — Over 7.9 million podcast downloads across 228 countries (60% USA, 12% UK, 5% Australia, 5% Canada, 18% Rest of the World). 123,685 listens in the last 30 days. 86% impactful plays (where people listen to at least 75% of the episode).
Book-binding: I created a limited hand-bound edition of A Thousand Fiendish Angels
One of my over-arching mantras these days is 'more physical, more digital.'
As I delve deeper into the online world and experiment more with AI, blockchain and other online things, I also need to focus more on physical products as well as in-person physical experiences.
In 2022, I decided to learn more about bookbinding and, with the help of a local bookbinder, I took a print-on-demand edition of A Thousand Fiendish Angels, stripped off the cover, and made it into a leather-bound original with special aged paper, end-papers, and more. The story is based around a book of human skin, so it was an appropriate project!
I really enjoyed the process, but it was also time-consuming and expensive, so I won't be making it part of my regular publishing experience. I'm keeping the edition for my personal library.
Click here to see the project in detail: From print-on-demand to leather-bound original
I achieved a lifetime goal of walking the Camino de Santiago — and finished my Pilgrimage book
In September 2022, I walked the Camino de Santiago Portuguese coastal route, around 300km from Porto, Portugal to Santiago de Compostela, Spain.
I have been thinking about doing the Camino pilgrimage for over twenty years, and when I was sick with Covid last year, I made a promise to myself to finally do it. Because you never know when it will be too late to achieve a goal.
Click here for a day-by-day overview of the route with photos
Click here for A Pilgrim in the Path of History: my personal podcast episode with lessons learned
I have walked two other pilgrimages over the last few years, The Pilgrims' Way and also the St Cuthbert's Way, and between the three long walks, I've learned a lot about myself. They helped me during the difficult pandemic times and improved my mental health during a time of change in my life.
I thought I would write a book after the Pilgrims' Way, but it turned out that I needed the other pilgrimages in order to find meaning (and a worthwhile book) from my experiences.
If you're interested in pilgrimage or solo walking in general, or if you like travel memoir as a genre, or if you'd just like to know more personal things about me (!!), then Pilgrimage: Lessons Learned From Solo Walking Three Ancient Ways will be out in early 2023.
I'm doing a Kickstarter for a special hardback edition launching 23 January, which will also include the ebook, audiobook, and print-on-demand paperback as pledge levels. I will then sell it direct, and also on all the usual stores.
Click here to read more about the book
Click here to register for the Kickstarter pre-launch
The end of my Books and Travel Podcast
I have been thinking about this for a while, but reading Quit: The Power of Knowing When to Walk Away by Annie Duke helped me make this decision. (Thanks to J. Thorn for the recommendation).
I have loved doing my Books and Travel Podcast for the last three years, but I need to make room for other things. The show does not have a viable business model for the amount of time (and money) it takes, and it's too much work and therefore not sustainable as a passion project.
I started Books and Travel in May 2019 when I envisioned a travel-related business around it with different books and products, and perhaps even guided tours and creative holidays. It was a very different travel world back then!
The pandemic hit less than a year later and changed travel as an experience, and as a business. I also discovered how much of the travel writing industry is either freelance writing, or writing for hire/commissioned writing. It's very different to other genres and the business model is not so clear — or profitable.
The Books and Travel Podcast has given me precious moments of escape, especially in the depths of the pandemic. I have loved the many conversations over the last few years, but I need time for other things.
The backlist will remain and the episodes are evergreen so you can still listen/read the transcripts. I have lots of solo episodes about my travels as well as interviews with travel writers and novelists who are inspired by a sense of place.
I've also been thinking a lot about my strengths and what I bring to a podcast that no one else can.
I am not remarkable at travel podcasting, and — after my Pilgrimage book — I don't have any plans for more travel books, although of course, my fiction as J.F. Penn will still be inspired by my travels.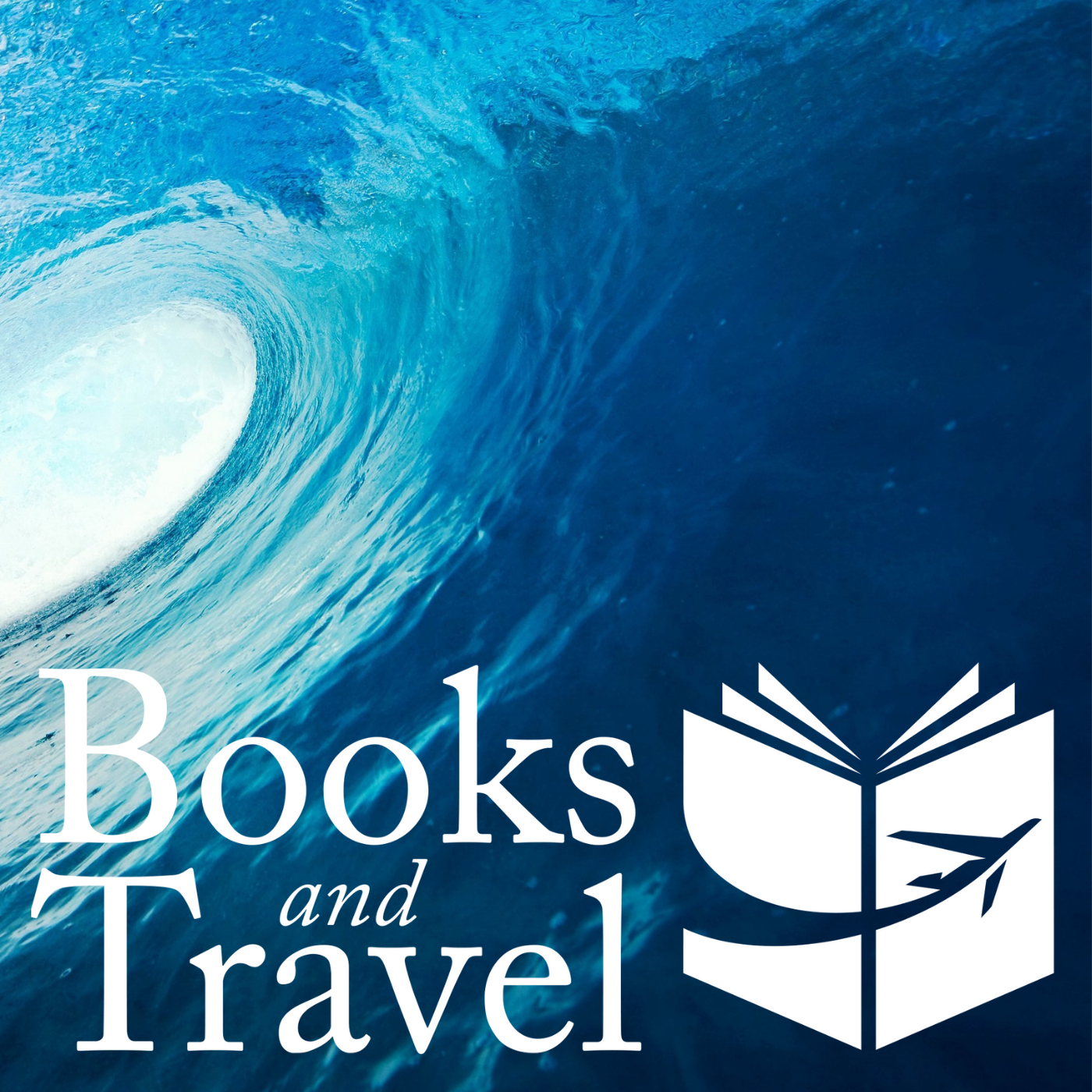 This is also evident in the downloads. Books and Travel gets around 1000—1500 downloads per episode, and it has remained stable for the last year. The Creative Penn Podcast gets at least 20,000 downloads per episode. Yes, 20 times the downloads of Books and Travel. It's clear where my energy should go!
I will do a final solo episode when Pilgrimage is available, and may add to the feed over time, but not as a regular show.
The podcast remains live so you can listen to 90 episodes of the backlist, and the website, BooksAndTravel.page will remain with all its diverse content, so I have the opportunity to go back to it later if I want to.
Was Books and Travel a waste of time?
Not at all.
I follow my curiosity and I consider Books and Travel to be a project that I needed at the time, and is now finished (at least for now).
I have also changed since starting the podcast. We bought a house and settled down; we have adopted cats, and the pandemic helped me feel part of a community in Bath. Before the pandemic, I always wanted to leave, to go somewhere else, but now, I am happy to stay home and put down roots.
We all change. Life moves on. We do not have to keep doing the same thing over and over.
I recommend Quit: The Power of Knowing When to Walk Away by Annie Duke if you are struggling to let go of aspects of your life. (Thanks to J. Thorn for the recommendation.)
Have a listen to my recent episode with Orna Ross on quitting/pivoting for more in-depth discussion.
Travel and speaking, health and personal things
Travel-wise, we started 2022 in New Zealand visiting family, but I left soon after the new year because the Covid restrictions were so severe.
As the year progressed, the pandemic became less of a worry and more part of the risks of everyday life.
I attended the Creator Economy Expo conference (business trip) in Arizona in April, and then we had a beach holiday in Rhodes (Greek Islands) in May, then I walked my Camino from Porto in Portugal to Santiago de Compostela in Spain. I'm happy to be out and about in the world again!
I spoke at London Book Fair on The Creator Economy, as well as Self Publishing Show Live on the same topic. I spoke online about NFTs several times, and I was on a panel at NFT.London. I ran a full-day in-person event here in Bath with Orna Ross, as well as running online sessions on business planning.
Health-wise, it's been a transformative year.
I stopped sleeping properly in November 2019 and blamed my subsequent insomnia on the pandemic. But it only got worse and by April 2022 (after turning 47), I reached the end of what I could manage. I went on HRT (hormone replacement therapy) and within 48 hours, I slept through the night. It was a miracle!
HRT has dramatically improved my mental health and happiness, and if you are a woman of perimenopausal age (usually around 45-54 although that can, of course, vary), or if you love someone this age, then I recommend reading Menopausing: The Positive Roadmap to Your Second Spring by Davina McCall and Dr. Naomi Potter.
I know HRT is not for everyone, and I don't want to hear any political opinions on women's health or natural remedies vs pharmaceuticals!
This menopausal age bracket is the highest risk for suicide amongst women, and I certainly felt the edge of the abyss during my many sleepless nights, so I just wanted to share my experience in the hope it might help someone out there who is suffering as I was.
On other health things, I continue to lift weights twice a week (PB deadlift, 80kgs for 2 sets of 3) and also to eat with an intermittent fasting lifestyle. I've also walked a LOT of kilometers in 2022, both in training for the Camino, and the walk itself.
On happiness things, we adopted two British Shorthair cats, Cashew and Noisette. Cashew is my writing buddy and curls up beside my desk, and Noisette loves her warm space next to Jonathan. You can always find them on my Facebook and Instagram @jfpennauthor.
Financial Goals
The Creative Penn Limited made almost exactly the same amount of money in 2022 as it did in 2021, which I'm pleased about. It's a healthy multi-six-figure revenue, which is great for a mature creative business with only 1 employee (me!).
I grew my direct book sales which means a greater percentage of profit for a lower number of book sales. Although my affiliate income has dropped (since I don't do so many tutorials or webinars anymore), I made up the difference through the podcast and live event sales.
Interestingly, I spent a lot less on book marketing in 2022. This might be because I focused on email marketing to sell direct, but I intend to increase this again next year and see if I can grow my book sales further.
Thank you so much for being part of my community in the last year — for buying my books in all formats, for being a patron of the show, for clicking my affiliate links, for leaving positive reviews on the books and the podcast, and for recommending them to others.
I wouldn't have this career without you, so thank you so much and I hope you'll join me for the year ahead.
How did your creative goals go in 2022? Please leave a comment and let me know.
I'll be back with my 2023 goals on 1 January, 2023.




The post originally appeared on following source : Source link