How we profited from the power of the POWR ratings with a powerful pairs trade philosophy on VAL and HP.
Alfred Winslow Jones is widely credited with creating the first hedge fund, or more accurately "hedged fund", in the late 1940s.He supposedly got the idea while researching a markets article for Fortune magazine.
The idea was pretty basic-create a hedge, or pairs trade, by shorting stocks he thought would drop in value while buying stocks he thought would head higher. It is called a pairs trade since both the bullish and bearish trade are done simultaneously-or paired together.
For example, buying Ford (F) and shorting General Motors (GM) would be a classic pairs trade if you expected Ford to outperform GM.
This essentially dampens down overall market risk. Even better if the short and the long stock were in the same industry to greatly reduce sector risk.
This is a core strategy we have employed from inception in the POWR Options Portfolio, but with a few more advantageous features.
We use options, not stock, to take the offsetting short and long positions. Buying bearish puts on the "bad" stocks and bullish calls on the "good" stocks. This is a much less expensive way to create a hedged trade. It also has defined risk.
The portfolio relies on the POWR ratings to help identify the highest rated stocks to buy with bullish call purchases and the lowest rated stocks to short with bearish put purchases. Since inception, the Strong Buy (A Rated) and Buy Rated (B Rated) POWR Stocks have outperformed the S&P 500 by over 3x. The F Rated Strong Sell and D Rated Sell POWR Stock have fallen by nearly 4X the S&P 500.
Look to uncover situations where the lower rated stocks have temporarily outperformed the higher rated stocks to provide additional edge from the expected mean reversion.
Let's take a walk through a pairs trade recently done in the POWR Options Portfolio to help shed some light on the process. It was a combination of a put purchase on the lower D rated Valaris (VAL) and a call purchase on the higher B rated Helmerich & Payne (HP). Both stocks were in the Energy-Drilling Industry.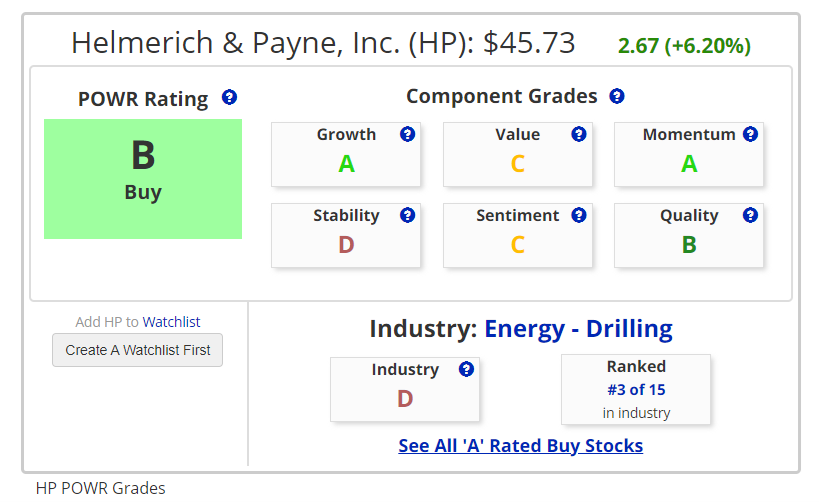 The comparative chart below from February 10 shows how lower rated Valaris (VAL) had dramatically outperformed higher rated Helmerich & Payne (HP) by over 50% in the past 12 months, with most of this outperformance beginning in early December. Before that time, you can see that the two stocks were more highly correlated-or moved more in tandem together.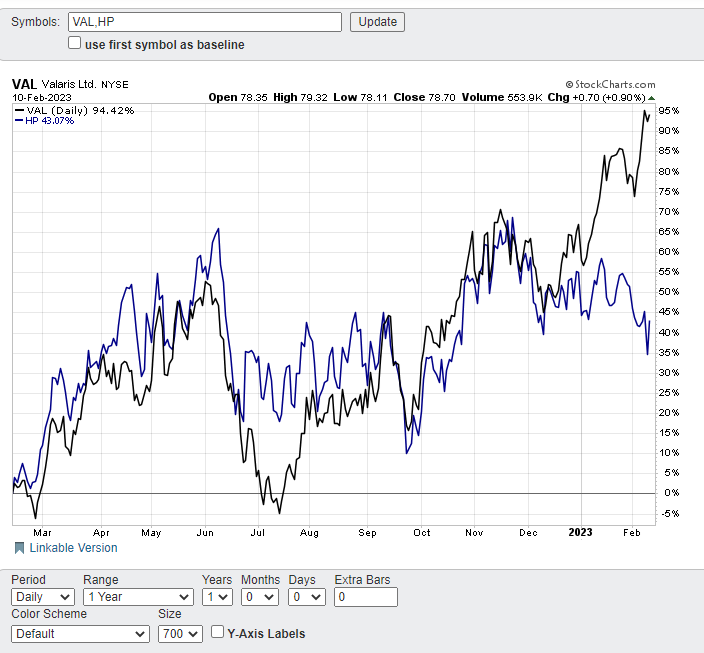 On February 21 the comparative performance differential converged by roughly 10%. Both stocks fell, but VAL dropped at a far faster pace than HP.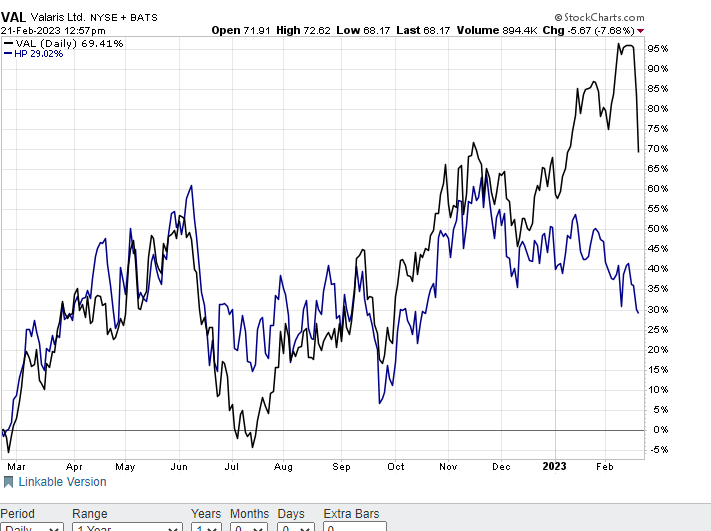 Originally, on 2/13, the POWR Options Portfolio bought the HP Calls at $5.50 and the VAL puts at $5.00 for a combined outlay of $1050.
One week later, the convergence generated a profit. POWR Options sold the HP calls at $3.50 and the VAL puts at $9.50 for a total combined credit of $1300, or a net gain of $250 .
Overall gain, as shown, was $250 total net profit on $1050 invested. This equates to a net return of 23.8% in a week. Not a bad short-term return for a low risk trade.
All achieved by taking a defined risk bullish call position on the higher rated,but underperforming, Helmerich and a bearish put position on the lower rated, but outperforming, Valaris.
The particulars are shown below:

2023 may be shaping up as a year where stocks go nowhere. This is especially true given the red-hot start to the year following such a dismal 2022.
Investors and traders alike may be well served putting the POWR Options pairs trade philosophy to work as part of their trading toolbox. Lower risk with still sizeable potential returns is a viable strategy in any market, especially the one we find ourselves in currently.
POWR Options
What To Do Next?
If you're looking for the best options trades for today's market, you should check out our latest presentation How to Trade Options with the POWR Ratings. Here we show you how to consistently find the top options trades, while minimizing risk.
If that appeals to you, and you want to learn more about this powerful new options strategy, then click below to get access to this timely investment presentation now:
How to Trade Options with the POWR Ratings
All the Best!
Tim Biggam
Editor, POWR Options Newsletter
---
VAL shares closed at $65.30 on Friday, up $0.36 (+0.55%). Year-to-date, VAL has declined -3.43%, versus a 3.65% rise in the benchmark S&P 500 index during the same period.
---
About the Author: Tim Biggam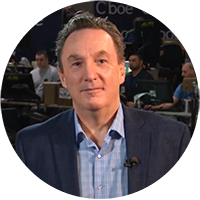 Tim spent 13 years as Chief Options Strategist at Man Securities in Chicago, 4 years as Lead Options Strategist at ThinkorSwim and 3 years as a Market Maker for First Options in Chicago. He makes regular appearances on Bloomberg TV and is a weekly contributor to the TD Ameritrade Network "Morning Trade Live". His overriding passion is to make the complex world of options more understandable and therefore more useful to the everyday trader. Tim is the editor of the POWR Options newsletter. Learn more about Tim's background, along with links to his most recent articles.
The post How To Pare Down The Risk And Pump Up The Profits With A Pairs Trade Approach appeared first on StockNews.com


The post originally appeared on following source : Source link